Blog
5 Hints You're Working With The Right Plastic Injection Molding Manufacturer 
February 1, 2021
When it comes to choosing the right plastic injection molding manufacturer, it can be hard to know what you don't know. Who do you trust? How many questions should you ask? What questions, specifically, should you be asking? With so many variables at play, it's a challenge to feel like you're choosing the right manufacturer.
However, based on our decades of experience, we're able to confidently say the best manufacturers have five major characteristics in common:
DF(x) Engineering
Assembly, Painting, and Secondary Options
Supply Chain
Automation and Robotics
Tooling Design and Maintenance
To make your choice a little easier (and ease some stress), let's take a closer look at all five.
1. DF(X) Engineering
Short for "Design for Excellence," DF(x) is a group of design principles that are key to design success. In our experience, the most important values for x include these four critical elements.
Cost
Some designs include cosmetic details that don't add to functionality, but definitely increase cost. While some parts of a product are imperative for the part's functionality, non-functional details can be costly. Just as one example, a simple lifter or slide will increase the cost and cycle time of your tool by increasing labor costs. As a whole, a simple design addition makes the entire part more expensive to manufacture. An experienced manufacturer should be pointing out design areas for cost savings, not building in cosmetic details that do little in the end.
Quality
Cosmetics, however, can add to quality as well. It's important that your manufacturer is looking at the parts within the product that are critical to the tolerances and quality required to be a functioning product. If any of those fail, you'll never hit your tolerances or functionality, making it impossible to hit your quality requirements.
Material
Experience with specific materials is important. Certain materials act differently inside different injection molding presses. Experienced plastic injection molding manufacturers not only know this, but they understand the nuances different materials bring to the table.
Additionally, your manufacturer should not just be designing for specific materials, but should be helping with material selection too. While a specific material might sound great to you, an experienced manufacturer will know that a less expensive option may still offer what you need.
Manufacturability
Ultimately, you have to make sure your product is actually manufacturable. The way you intend for a product to function has to be compatible with the way you want to manufacture it.
Some plastic injection molding manufacturers will simply build your product the way you designed it without pointing out potential issues. But once hot plastic is pushed into a steel tool, you'll want someone with the kinds of experience to ensure you get the product you desire, without later issues that become costly to correct. Draft and radii are important elements to build into the design along with identifying possible sink areas.
To learn about injection molding design tips, check this out.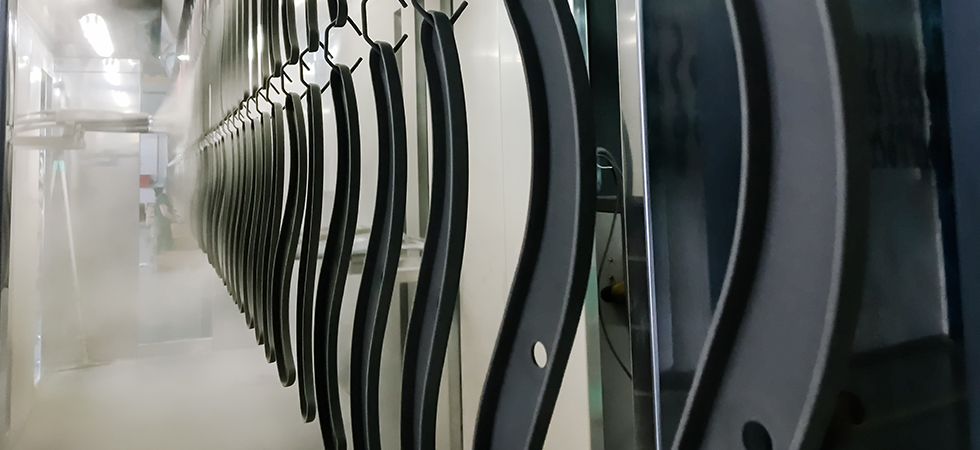 2. Assembly, Painting, and Secondary Operations
Many products will require secondary finishes after parts come off the line. It's important to consider whether your manufacturer has the ability to assemble your product in-house or apply finishes right away.
Keep in mind, also, that manufacturers who outsource secondary operations will have to ship your products and manage those operations on your behalf. Multiple touchpoints can increase the risk of damage. It becomes much harder to expedite shipping. You open yourselves up to quality issues. And, in the end, you'll need longer lead times
If your product will need to be painted, pad printed, silk-screened, hot stamped, coated, or plated, it's good to know in advance whether your manufacturer will be handling those processes in-house or if you need to outsource those processes.
3. Supply Chain
It is critically important to have a plastic injection molding manufacturer with a well-rounded supply chain team, especially if you have a product that requires assembly. Look no further than the very long supply chain issues for the COVID vaccine for evidence of the impact of supply chain issues. The manufacturer should be well connected with resin suppliers and be able to manage purchasing and lead-times of components that are required to assemble your product.
Part of working with a manufacturer that has extensive supply experience is knowing where your end-ship location is. If the final destination of the product is going from the manufacturer to Atlanta, but you're manufacturing in China, you could be facing a number of environmental, time, cost, and logistical impacts. If your product is being shipped throughout North America, you should definitely be considering a North American manufacturing partner.
4. Automation and Robotics
How advanced is your injection molding manufacturer? Does your injection molder have the capabilities you need to produce your product — the right size machines, enough capacity, ability to scale your program?
In the end, you're trying to create high-quality molded parts with the most cost effective production processes. Automation and robotics can help speed up and simplify the plastic injection molding process, resulting in more efficient cycle times, reduced manual labor costs, decreased waste, and increased part precision.
It's important to ask your manufacturer if they have invested in automation and robotics, if they're looking for ways to improve their processes for their customers. Make sure to partner with a molder who is innovative and can keep you ahead of your competition.
To read more about the benefits of automation and robots, check this out.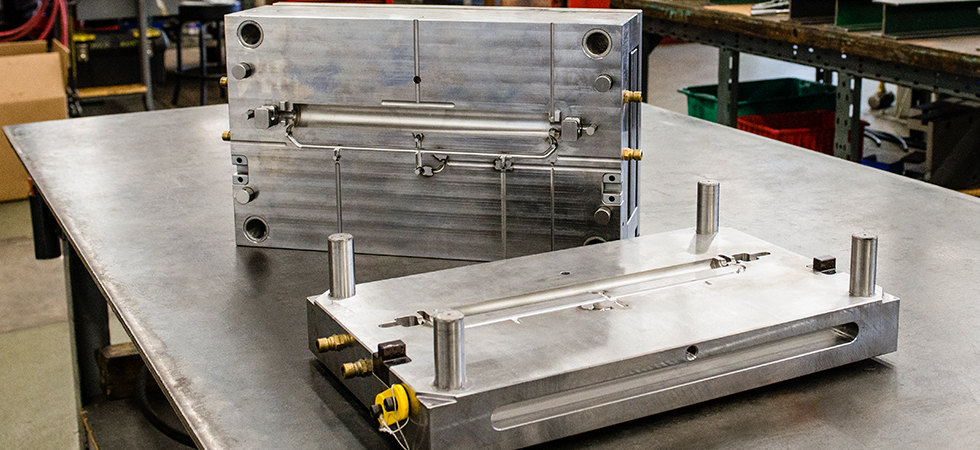 5. Tooling Design and Maintenance
Domestic
If you need something fast, having a domestic manufacturer handle your tooling is the way to go. You might have to pay a little bit more in the long run, but it's because everything would be manufactured state-side, you're able to cut leads times, meaning you get to market faster. And if you're a company who values U.S.-only solutions, this is really your only choice.
International
If you choose an international manufacturer for your tooling, cost savings is the most obvious advantage, here. It's possible to achieve decent lead times as well. Don't forget, though, that at the end of the day, whatever you build still has to be put on a boat and shipped. It will take time, often weeks. Weighing this against cost savings is often overlooked.
That said, it is possible to find an inexpensive, but quality resource with decent lead times. However, they will require a lot more vetting than a domestic manufacturer will.
It's important your injection molding manufacturer can navigate this for you. They should have trusted domestic and international suppliers as well as experienced tooling design engineers on staff. Here at Cadrex, we've visited all of the facilities we use in North America and Asia. We can personally vouch for them and their quality.
In-House Maintenance
When it comes to taking care of your tool, it's really important that you work with a manufacturer who can provide in-house tooling maintenance. There is never a "perfect tool." Things will happen and tool maintenance will be required. In fact, preventative maintenance should be part of your manufacturers routine.
Because your manufacturer is deeply embedded in the process, they will be able to pay more attention to your project, ensuring the quality of the tool will work within your desired manufacturing environment.
To learn about injection molding tooling design tips, check this out.
A Reputable Injection Molding Manufacturer You Can Count On
The best way to avoid issues with injection molding is to start working early with a contract manufacturer that has the expertise to look at all aspects of your product — including DF(x), automation, and secondary applications.
Cadrex has decades of DF(x) experience by providing part design and tooling solutions for many different industries. We provide in-house tooling design and work with trusted domestic and international suppliers to manufacture production tools. Once your tool is in production, our tooling team provides all of the required maintenance to keep it performing at its best.
Reach out to us to request a quote or, simply, to get in touch to learn more about our plastic injection molding capabilities.
Subscribe to Cadrex Insights
Keep up with interesting reads from Cadrex, delivered straight to your inbox.