Endless Possibilities
Cadrex has plastic and metal operations in-house, ensuring that all components are appropriately designed for overmolded parts and products. Our engineers have advanced knowledge of overmolding processes, including plastic onto metal or plastic components.

This application requires incredibly tight tolerances to fit like a glove, making overmolding challenging without experts' help early in the design phases. Our experienced engineering and tooling teams work with you to ensure your parts and tools are correctly designed to account for shrink and other variables when overmolding.
Creates Strong Material Bonds
Improves Functionality of Part
Higher Quality Part Appearance
Eliminates the Need for Assembly
Insight
Plastic Injection Molding Design Tips
When designing a product, it's easy to create something that fits all requirements for the product's intent without any thought about the manufacturing process. Many times, it might not be clear what manufacturing process will be used to produce the final product. At Cadrex, we are experts in working with plastic injection molding manufacturers. We understand the complications that come with adjusting a design to complement the injection molding manufacturing process.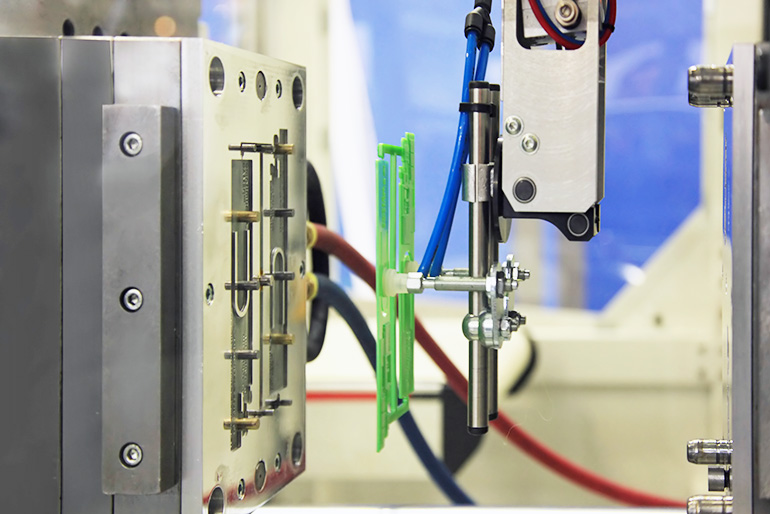 How it Works
Overmolding is the process of molding plastic onto plastic or metal components. The base part is engineered to fit into a steel injection mold and allow the hot plastic to flow and form around the base part, creating a strong bond between the parts and eliminating the need for assembly. With overmolding, you can improve your product's functionality, look, and bond strength while saving time and reducing costs.

The most common use of plastic over plastic overmolding is flexible plastic molded around a rigid plastic. Plastic over plastic overmolding is often used for handheld devices, soft grips for consumer products, and medical devices.

Overmolding plastic onto metal is also a common application. Plastic over metal overmolding is used in ICT, medical, aerospace, and consumer goods. With our unique sheet metal capabilities, we can ensure you receive quality parts.