Expertise with Complex Products
We have been an injection molding manufacturer for over 50 years. Our early engineering involvement allows us to mitigate product design issues and costs during the NPI process while decreasing time to market.

Our experience tackling complex product design, temperamental specialty materials, and intricate tool builds (that might include slides, actions, and lifters) makes us an ideal partner for your next program. You are assigned a dedicated team of experts who serve as your single point of contact throughout the product lifecycle, assisting with initial parts discussions and production launch.
Injection Molding Capabilities
36 Injection Molding Machines
Clamp Force 28 Tons - 950 Tons
Engineering & Commodity Grade Resins
Plastic and Metal Overmolding
Robotic Operators & Conveyor Systems
In-House Tool Design and Maintenance
Conveyor Paint Line, Pad Printing, & Silk Screening
Increased Efficiency
Injection Molding Automation
Cadrex's plastic molding operations incorporate multiple forms of automation and robotics, including custom fixtures to increase efficiency, quality, and ergonomics. Depending on our customers' program requirements, we have the expertise to incorporate pick-and-place automation or a robotic operator for faster and more consistent cycle times, better labor utilization, and lights-out manufacturing.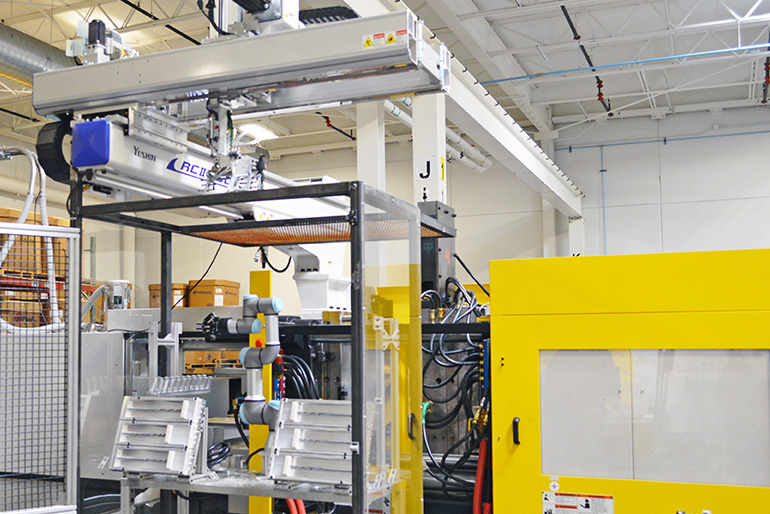 How it Works
Plastic injection molding is the process of injecting molten plastic material into the mold cavity of a metal tool which then cools and ejects a plastic part from the machine. Most plastic products we see and use daily are made using this manufacturing process.

Plastic resin is fed into the loader in pellet form. The material is rotated forward by the screw and makes contact with the heated barrel. Friction and the heated barrel melt the plastic, which accumulates in front of the screw. The machine is programmed to turn off the screw motor when enough material is available. The screw is then used to push material through the nozzle and into the mold. The material cools and hardens in the mold with the assistance of cooling channels. The mold opens after a predetermined cycle time, the plastic part is ejected, and the process is repeated.
Common Injection Molding Materials
Acetal (POM), PBT/PET (GF & Non GF), PC/ABS, PC/PET, Polyamide (Nylon 6 & 6/6) (GF & Non GF), Polybutylene Terephthalate (PBT), Polycarbonate (PC), Polyether Ether Ketone (PEEK) (GF & Non GF), Polyether Imide (PEI) (Ultem), Polyethylene Terephthalate (PET), Polyphenylene Ether (mPPE), Polyphenylene Sulfide (PPS), Polyphthalamide (PPA) (GF & Non GF)
Acrylic (PMMA), Acrylonitrile Butadiene Styrene (ABS), Polyethylene (PE) (HDPE) (LDPE), Polypropylene (PP), Polystyrene (PS) (HIPS), Styrene Acrylonitrile (SAN)
Injection Molding Design Guide
Learn more about the injection molding process including terms, definitions, and industry best practices. 
Tooling Design & Build
Our highly talented injection molding tooling engineers can design simple and highly complex single-cavity, multi-cavity, and family tools. Actions can be built into your tool depending on the complexity of your injection molded part to ensure you get the look and function needed.

Our plastics operation utilizes domestic and international suppliers for the tool build, which our in-house engineers closely monitor. We constantly communicate with our suppliers to keep your tools on schedule and monitor quality. Maintenance and repairs are taken care of by our in-house tool room.