From Concept to Scale
Our precision sheet metal manufacturing is strategically located across the United States and Mexico to provide our customers with the speed to scale required to quickly introduce new products into the market.

Cadrex has decades of expertise making sheet metal parts, assemblies, and integrated products for fortune 500 companies. We become an extension of our customers' teams from prototype and NPI into production, mechanical assembly, integration, and testing to provide solutions to our customer's most complex challenges.
Metal Fabrication Capabilities
Sheet Metal Engineering & Prototype Center
Sheet Metal Fabrication - Cutting, Punching, & Bending
Sheet Metal Stamping Presses from 30 to 300 Tons
Robotic Operators, Brakes, and Panel Bending
Automatic Tool Changing & Loading/Unloading
Mechanical Assembly & Hardware Insertion
Mig, Tig, and Robotic Welding
In-House Sheet Metal Tooling Design & Build
Pad Printing & Silk Screening 
A Critical Component
Automating Metal Fabrication
Cadrex continues to invest in state-of-the-art sheet metal manufacturing equipment, automation, and robotics to increase efficiencies, quality, and ergonomics. Depending on your program size and requirements, our automation engineers will determine if robotic operators for sheet metal assemblies and integrations will benefit your program.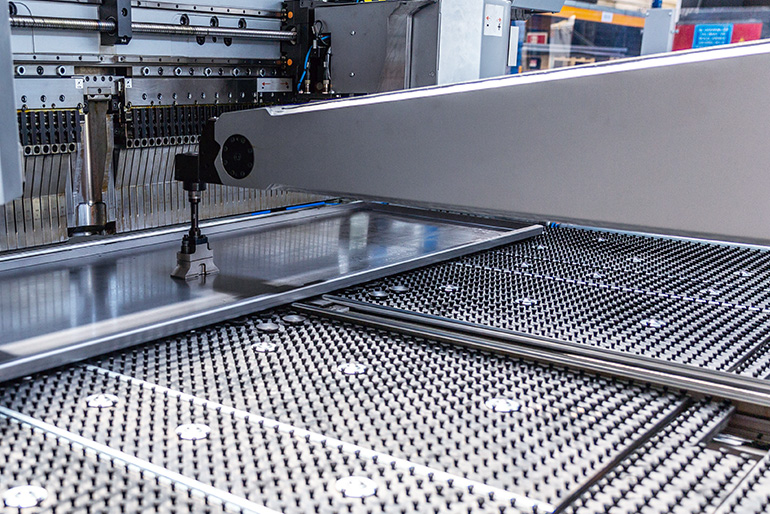 How Sheet Metal Fab Works
There are two main sheet metal manufacturing processes: metal fabrication and metal stamping. Metal fabrication uses laser cutting, turrets, brake presses, and panel bending to form parts and components through cutting, punching, and bending. Metal stamping feeds coiled sheet metal into a stamping press where a steel die forms the metal in one or more stages.

Sheet metal fabrication or forming allows for a high amount of flexibility during a product's design, prototype, and production ramp. With zero to minimal tooling investments, products can quickly move from prototyping to production. Metal stamping is an excellent option for high-volume parts, decreasing the overall cost of the part long-term and increasing part consistency. Parts are produced much more quickly and require less labor. Many sheet metal assemblies and integrations are a combination of sheet metal formed and stamped parts.
Common Sheet Metal Materials
Aluminum 3003, Aluminum 5052, Aluminum 6061
Copper C110, Brass, Phosphorus Bronze
301, 302, 303, 304, 316, 400 series
.015"-.250" thickness draw quality to grade 50
Preplate galvanized G30-G90, Galvaneal, Electrogalvanized, Aluminized, Pre-painted
Sheet Metal Fabrication Design Guide
Learn more about the metal fabrication and stamping process including terms, definitions, and industry best practices.