Scale Faster
Cadrex has invested heavily in our fleet of sheet metal stamping presses and fully automated systems. Medium to high-volume programs benefit from metal stamping vs. standard fabrication through faster cycle times, higher quality parts, tighter tolerances, better efficiency, and fewer touch points.

Parts are produced quickly and require little labor, which can be highly beneficial as a product becomes a staple in the market and demand increases. There is an initial investment in tooling, but the overall part cost and production time decrease.
Metal Stamping Capabilities
Sheet Metal Stamping Presses from 30 to 300 Tons
In-House Sheet Metal Tooling Design & Build
Domestic & International Tool & Die Build Options
News
Automated Stamping Line in Mexico
Our new state-of-the-art automated stamping line in Monterrey, Mexico, is another example of how Cadrex continues to invest in the latest manufacturing technologies. The fully automated precision metal stamping system is ideal for high-volume programs that need to scale quickly.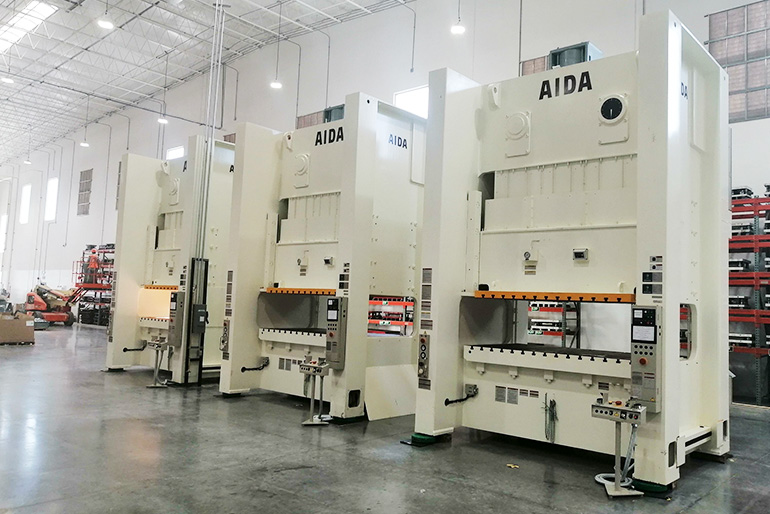 How It Works
Metal stamping is accomplished using progressive and stage steel dies designed to stamp, bend, and form sheet metal. Stamping is great for producing multiple, uniform metal parts at scale. Blank or coiled sheet metal is fed into a press where the metal is shaped by a tool and die. Common operations are embossing, blanking, coining, punching, and flanging.

progressive die is made up of a series of sequences in the stamping process where, when advanced through the mold, each piece is further bent or punched until complete.

Stage dies work on one part at a time. The part is moved in and out of the die either by a human hand or by a robotic process. Stage die types include compound, pierce, forming, ratchet, and coining.
Working with one of our highly experienced sheet metal tool and die engineers early in the design stages is critical. Our engineers will help you choose the right tooling option for your program and collaborate with your team to ensure every stamp and bend is perfectly placed to form your parts as desired.
We have in-house, domestic, and international tool build options for stamping dies and custom fabrication tooling. High-quality tools and dies are essential in guaranteeing you get good parts when you go into production. Once your sheet metal dies are in production, our team proactively maintains and repairs them to ensure optimal performance and life expectancy.