White Paper
Chasing Hyperscale: How Custom Rack Hardware Can Close the Data Center Gap
Custom mechanicals and rack hardware for the cloud and hyperscale infrastructure
What's Covered
More Data Than We Can Handle?
Drastic Changes in Cost and Connectivity
The Case for Custom Rack Hardware
Consider Your Options
Before you Customize...
About Cadrex
More Media Than We Can Handle?
"This isn't a bubble." These are the words of Microsoft's Chief Technical Advisor, Dave Crowley, when talking about the cloud at Bisnow's 2018 Data Center Investment Conference & Expo South. With a $4 trillion market cap, the cloud presents big, substantial opportunities to companies willing to look for and invest in them.
Increased connectivity from the Internet of Things (IoT), autonomous vehicles, smart home devices, and other emerging technologies are currently producing twice as much new data than the current data center market can manage. It is estimated the U.S. needs 4,000 new data centers by 2020 just to keep up with the 600 zettabytes of new data created each day. That's an average of 200,000 square feet and 25 megawatts per site [source].
As such, cloud giants like Google, Amazon, IBM, Oracle, and Microsoft are pouring capital expenses into cloud infrastructure projects at an incredible rate, signaling that infrastructure will be critical to growth in the coming years. "What we're seeing is a transition," says Crowley, "the beginning of an S curve of growth for the data center industry."
What is Hyperscale?
Hyperscale computing refers to the facilities and provisioning required in distributed computing environments to efficiently scale from a few servers to thousands of servers. Hyperscale computing is usually used in environments such as big data and cloud computing [source].
Drastic Changes in Cost and Connectivity
Hyperscale cloud providers are accelerating their infrastructure real estate and capex investments, indicating big changes in the way IT-based companies are looking at data center investments.
Increased connectivity, cheaper hardware, and flexible software have brought about dramatic changes in business models as innovations like AI and machine learning become quicker, cheaper, and more scalable. Just a few years ago, these projects required months of time and millions of dollars to complete. Now, companies can click a few buttons and be up and running within a day.
Affinitas Life's COO/CTO, Wayne Sadin, sees cloud-based everything as our future. While today's IT spend on cloud is just 5%, Sadin predicts that "one day soon, 95% [of IT money] will be spent in the cloud. The question is, what does cloud look like?" [source]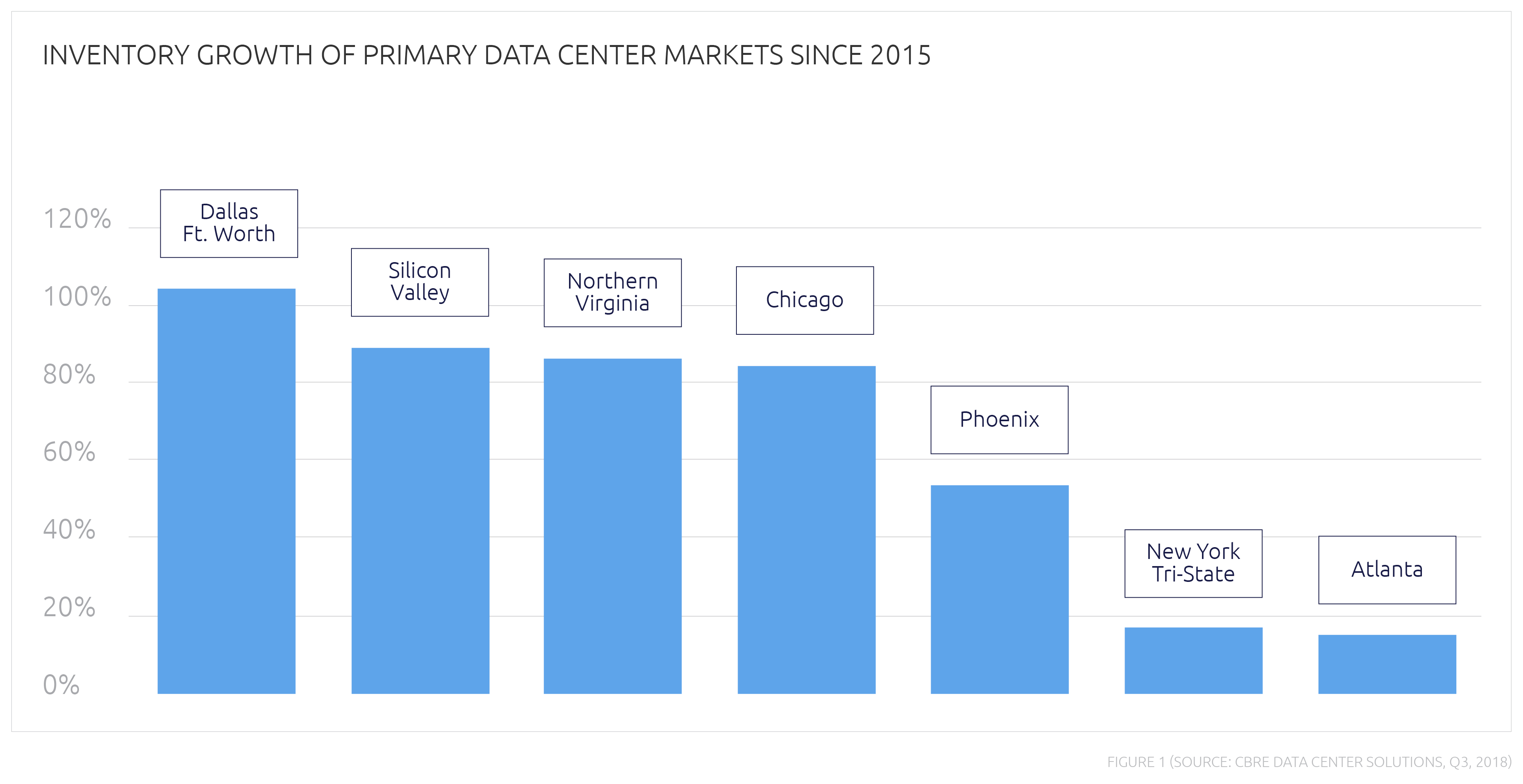 The Changing Geography of a Quickly Growing Market
Data centers will absorb significant investments as users create more data and consume computing power. As companies push more data to the cloud, data center growth is inevitable. But as pointed out earlier, the bigger question revolves around what the cloud looks like moving forward. The answer may be that data centers become more customized and more geographic-specific than they've been in the past.
Facebook is building a new, one million square foot facility just outside downtown Atlanta, while other large cloud providers like Apple, Twitter, LinkedIn, and Alibaba build facilities in secondary or even tertiary regions across the U.S.
Telecom companies, too, are adding micro-data centers near 5G towers, as the pressure for edge computing — a way to streamline the flow of data for real-time analysis — grows.
"Excellent fundamentals, room to build, prime geography, and low costs of electricity/development put Dallas-Fort Worth (DFW) on shortlists for developers and investors everywhere," says CBRE's Data Center Solutions team [source]. And while DFW is already a major data center hub for those reasons, it's likely investors will find those same requirements attractive elsewhere — in cities like Denver, Chicago, Salt Lake City, and Atlanta.
"Every co-location provider is positioning themselves to be able to accommodate a large cloud provider when the time is right."
Haynes Strader, CBRE Associate, Data Center Solutions [source].
As we continue to connect our homes, our phones, our cars, our buildings, our cities, and even our clothing to each other and to the cloud, data centers will be the most valuable asset around. And those who invest early in building their own will have a leg up.
The Case for Custom Rack Hardware
Companies with their own data centers will need to find new ways to keep costs low while providing the capacity and speed consumers need. Today, many large enterprises are opting to collaborate directly with custom rack hardware manufacturers to achieve the agility, cost savings, and flexibility they'll need to gain a competitive advantage moving forward.
Here's how customizing rack hardware to specific needs is setting many in the Cloud Infrastructure industry apart:
Flexibility and Agility
Blockchain, cryptocurrency, AI, machine learning, IoT, 5G, and connected devices are driving huge demand for big data and compute power. At the same time, edge computing is becoming a widely adopted practice to improve user experience and network reliability.
Collaborative design for manufacturability and a more flexible supply chain can meet size and parts specs while soft tool sheet metal fabrication allows for changes in part/rack design based on space or integration.
Customizing the mechanical solution to optimize the cost and performance of applications housed centrally and/or at the edge.
Increased Speed and Density
Sixty-seven percent of data center operators are seeing increases in server rack densities [source] while hyperscale players continue their push for speed and capacity. And with Moore's Law potentially reaching its limits and storage density increases becoming more challenging, industry leaders are turning to customized mechanical solutions to optimize performance and density.
With the elevated use of customized compute solutions, companies are seeking experienced manufacturers who can help with prototype, DFM, full production, assembly, and off premises integration and testing for custom IT infrastructure.
Low-Cost Power and Cooling
As mentioned earlier, data centers are moving into non-traditional regions. Geographic location can have dramatic effects on power and cooling.
Many off-the-shelf servers and racks aren't suited to specific environments, especially as data center facilities turn to solar, hydro, wind, and geothermal cooling methods to keep costs low. Air and liquid cooled operating environments — especially those within the same facility— will drive a greater need for custom racks and mechanical solutions.
Scalability
Top hyperscale providers around the globe are combining customized mechanical solutions with off-site rack integration and pre-deployment testing. While it seems counterintuitive, customized racks actually increase deployment speed and scale by reducing assembly times, transportation costs, and waste.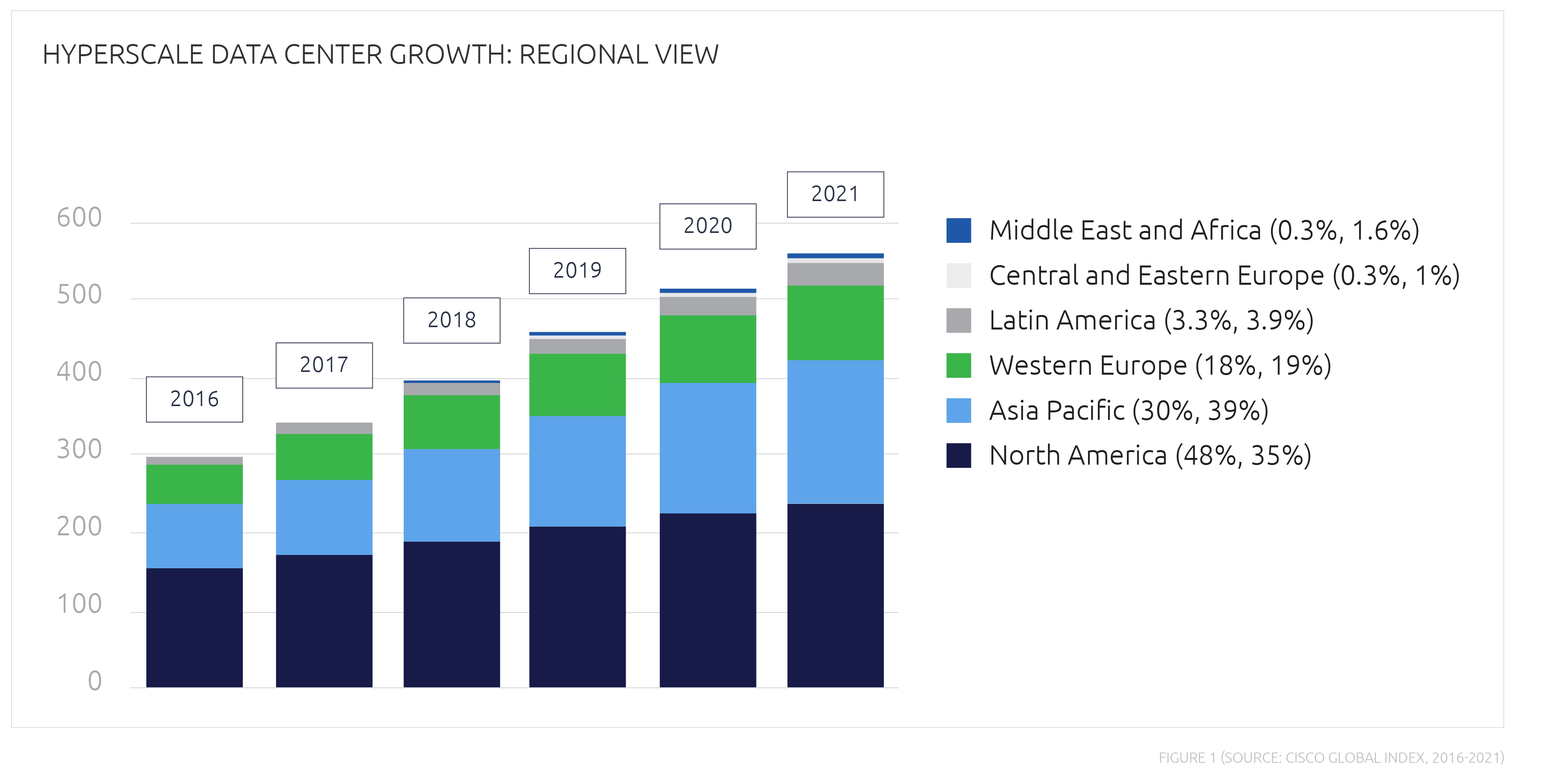 Consider Your Options
Aggressive growth strategies are increasing demands on power, cooling, and costs. Cloud providers of all sizes need to stay agile while keeping an ability to scale — all while reducing costs.
There's a ton of opportunity hiding among some of the most obvious challenges. Custom network, storage, power, and server rack hardware could be the answer to getting all of that.
Before You Customize
At Cadrex, we help cloud infrastructure and network architecture industry leaders design for manufacturability, flexibility, scalability, and cost.
For years now, we've collaboratively engineered, manufactured, and assembled hundreds of thousands of racks, enclosures, chassis, disk drives, routers, switches, drive sleds, and data center HVAC units. Let us know when you're ready to get started.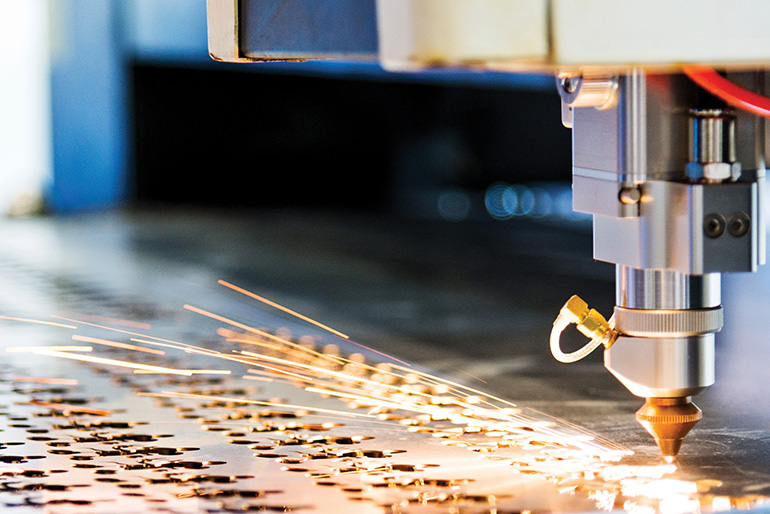 About Cadrex
Cadrex is one of the largest manufacturing partners in North America, with 20 facilities located in nine states and Mexico. As a leading custom mechanical solutions provider for the most innovative companies in the world today, we offer a unique breadth of capabilities and technical expertise that allow us to rapidly bring customer programs from concept to scale. In addition, our decades of specialized experience designing and manufacturing for information communication technology, warehouse automation & robotics, kiosk & gaming, aerospace & defense, renewable energy & electrical infrastructure, and medical sectors make us a trusted partner in our customer's supply chain.